Arbour



 

Catergory: Builds
The numbersEdit
Buying Price
Selling Price
Updates
Reward Time
Reward(s)
2400
24
800
8
1
7 hours
12 minutes
6
---
The Arbour is build during one of the Arbour Mini Quests.
In order to build the Arbour, a Tribe size of at least 12 is required.


---
After the initial build, you can´t craft anything in the Arbour.
In order to be able to do so, the Arbour needs to be improved (see Furnish and Ornaments).
---
Furnish and OrnamentEdit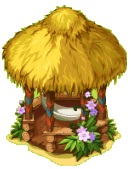 In order to improve the
Arbour
you need:
15 Bamboo
15 Flowers
15 Liana
15 Fabric
15 Leaves
15 Plummets
---
Crafts-IIEdit
Syrup can be created in the Festive Tent, with 3 Sugarcane Juice and a Pot.

Needed: 4 Crystals and 4 Corals.

Both to be obtained by either asking for them from your friends or buying them with Totems.
---
Related QuestsEdit
Arbour MiniQuests - Time_to_rest
Arbour MiniQuests - Your Tropical Shake is ready
Arbour MiniQuests - Let's make Necklaces
---
CollectionEdit
The Arbour has no Collection.
---
Ad blocker interference detected!
Wikia is a free-to-use site that makes money from advertising. We have a modified experience for viewers using ad blockers

Wikia is not accessible if you've made further modifications. Remove the custom ad blocker rule(s) and the page will load as expected.