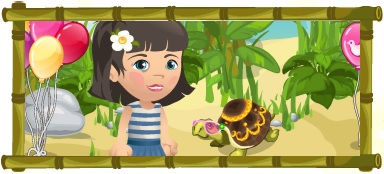 This week you've got a chance to get a Brazil Turtle. Make a carnaval on the island and have fun!
------------------------------------------------------------Time Limit: 7 days---------------------------------------------------
Unusual guestEdit
Part 1: Looks like you've got a new animal on your island...But you can't see anything behind the trees.
Cut down 7 Trees.
Water 15 Coconut Palm plantlets.
(Can be bought in the Store/Shop. Costs: 1560 , Watering time: 36 hours)
Harvest from the Apple Tree 10 times. (Harvest time: 12 hours)
Wow! In the thicket there's an unusual guest - a Brazil Turtle!
Let's show hospitalityEdit
Part 2: The turtle has travelled a long way! You've got to feed it.
Feed the Turtle 5 times. (Feeding time: 2 days 6 hours)
Have 5 portions of Rice with mango.
(Can be found while harvesting the Mango Tree. Harvest time: 1 day 6 hours)
Find 10 Grass blades with dew.
(Can be found while harvesting Flowers. Harvest time depends on the colour.)
Great! You're doing well!
Brazilian CarnivalEdit
Part 3: In Brazil they make fabulous carnivals. Why not organize one on the island?
Find 10 portions of Colonists' punch.
(Can be found while harvesting the Lemon Tree. Harvest time: 16 hours)
Make a Lei. (Can be made in the Dressmaker's. (needed: 10 Flowers, 1 Spool of threads)
Plant 20 Anemone beds. (Can be bought in the Store/Shop. Costs: 102 )
Great! The carnic(v)al will be a succes!
Preparations are going onEdit
Part 4: Going on preparing for the carnival.
Have 10 Butter dishes from the improved Hut. (Reward time: 1 hour, 12 minutes)
Make 8 Rum Cocktails. (Can be made in the Arbour. Needed: 2 Syrup, 1 Rum)
Great! Everything is almost ready!
Festive decorationsEdit
Part 5: What fest can do without fireworks and flowers?
Pick 10 Flowers.
(Can be obtained by removing "natural" Vegetation, by asking them from Friends or by buying them for a a piece.)
Start 10 Yellow Fireworks. (Can be made in the Cauldron. Needed: 3 Gunpowder, 23 yellow Petals)
Exchange the Turtle Collection for a reward 3 times.
Great! it looks terrific!
Finishing strokesEdit
Part 6: Some more finishing strokes and everything is gonna be perfect.
Find 3 Plush Turtles.
(Can be found while feeding the Turtle. Feeding time: 2 days 6 hours)
Make 15 Turtle-shaped Balloons.
(Can be made in the Festive Table. Needed: 1 Raw Rubber, 4 Energy)
Feed Turtles on your friends' island 30 times.
Hurray! The carnival is a success!
---
Ad blocker interference detected!
Wikia is a free-to-use site that makes money from advertising. We have a modified experience for viewers using ad blockers

Wikia is not accessible if you've made further modifications. Remove the custom ad blocker rule(s) and the page will load as expected.