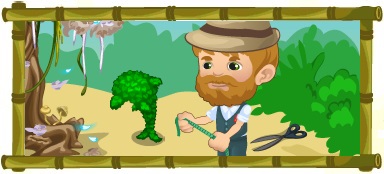 This week you have a chance to get a Dolphin-Bush. Complete the tasks on the sea shore and get an unusual decoration.
------------------------------------------------------------Time Limit: 7 days---------------------------------------------------
Part 1: Look! There's a group of dolphins in-shore!
Wow! These are dolhins for real!
Part 2: Hot weather has settled on the island. And in such weather, there's nothing better than to spend a day on the beach, watching the dolphins gambolling in the ocean.
Get the crops of Watermelons 15 times. (Harvest time: 16 hours)
Have 10 portions of Coconut Milk.
(Can be found while harvesting Coconut Trees. Harvest time: 36 hours)
Buy 5 Umbrellas. (Can be bought in the Shop/Store (Decor). Costs: 2500 per Umbrella)
Great! The heat cannot harm you.
Part 3: Dolphins eat fish. Who knows, maybe if you offer them fish, they would come closer to the shore?
Great catch!
Part 4: Dolphins love sweets. Offer them some fruit from your island.
Make 5 Candy Apples. (Can be made in the Festive Table. (Needed: 2 Caramel, 1 Green Apple))
Find a Candied Papaya 10 times. (Can be found while harvesting a Papaya Tree. Harvest time: 8 hours)
Find 15 Kiwi Fruit Jelly. (Can be found while harvesting a Kiwi Tree. Harvest time: 1,5 hours)
Great! The dolphins love your treats.
More WaterEdit
Part 5: Dolphins live in water. Sometimes it's difficult to reach them! A canoe can help.
Find 15 Canoes. (Can be found while driving the Crocodile away)
Place a Lakelet (Small lake) on the Island. (Can be bought in the Shop/Store (Decor). Costs: 10000 )
Exchange the Fish Collection for a reward 5 times.
Great! You've managed all the tasks!
Let's playEdit
Part 6: Dolphins are very playfull, and they love shiny things.
Hurray! The unusual Dolpin-shaped bush is yours now!
---
Ad blocker interference detected!
Wikia is a free-to-use site that makes money from advertising. We have a modified experience for viewers using ad blockers

Wikia is not accessible if you've made further modifications. Remove the custom ad blocker rule(s) and the page will load as expected.