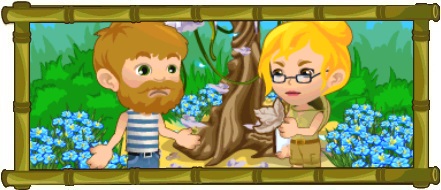 Unknown troubleEdit
Something is happening to the Tree of Life. It could be dying, you must find out what is really happening.
Get to the Tree Isle
Collect fruit from the Tree of Life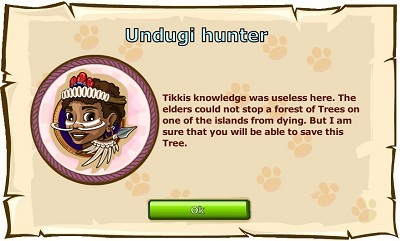 Consulting with specialistsEdit
It seems that the Tree of Life is dying. Maybe Doctor Ross and Undugi know something?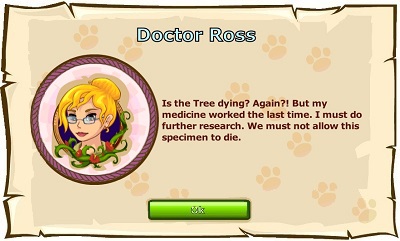 Return to your island
Speak with Undugi
Speak with Doctor Ross
Collecting SpecimensEdit
Doctor Ross needs samples to find out why the Tree is dying. It won't be hard, but making a tool for collecting samples could be tedious.
Additional researchEdit
Part 4: Doctor Ross said she doesn't need much, but maybe you should collect more samples, just in case.
Reagent for researchEdit
Part 5: Doctor Ross needs some reagents to finish her research. It shouldn't be too hard to find them on the Island
Find 45 vials of Oil in the Temple on your island
Find 16 Potato peelings
Find 28 Scissors from the Sheep collection
Part 6: It's clear why the Tree is ill, and it won't be easy to save it. but you're not easily frightened, are you?
Create 4 Trees at the Greenhouse
Find 4 Grape leaves on your Island
Find 25 seeds from the Watermelon Collection
Missing IngredientsEdit
Part 7: We have almost all items we need for the vaccine, just one left. But we must hurry!
Collect the reward from the Cauldron 3 times
Find 18 Pumpkins on your Island
Find 25 Wool from the Sheep Collection
Herbal medicineEdit
Part 8: We can only hope that Doctor Ross medicine will work and that the Tree will not die.
Collect Fruit from the dying Tree 50 times
Send 30 gifts
Saving the speciesEdit
Part 9: The Tree is out of trouble now, but you must collect a few seeds just in case and give them to Doctor Ross for safekeeping.