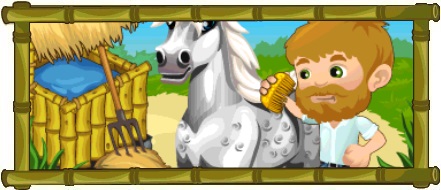 ---
Pasture arrangementEdit
Part 1: Before raising horses, you've got to prepare the island. Horses love wide open spaces.
Great! Colts will love grazing on your Island.
Part 2: To grow into beautifull horses, colts will need a special menu!
Buy 10 Horses (costs: 18900 per Horse)
Have 10 of Milk Formula ((found in the Store/Special) either ask from friends or buy it with Totems)
Find 15 Strawberry Leaves on your Island
Great! With this milk formula the colts will grow by leaps and bounds!
Special treatmentEdit
Part 3: For the Colts' good growth it is important to keep proper hours and provide them with a quiet life.
Feed Colts 10 times on your Island (10 Milk Formula needed)
Find 25 Stopwatches from the Cheetah Collection
Kick away the Tiger 15 times
Perfect! The bright sun, green juicy grass. What can be better?
Juicy grass bladesEdit
Part 4: Horses love to enjoy juicy grass. Perhaps the juiciest grass grows on the Tree Island
Find 19 Grass blades with Dew (can be found while harvesting a Flower patch)
Find 24 Raisins from the Grapes Collection
Send 30 free Presents to your friends
Magnificent! Your horses will become the most beautifull racers!
Gold horseshoesEdit
Part 5: Horses need horseshoes. But where can one find them on the uninhabited island? You'll have to make them with your own hands!
Brilliant! You've made excellent horseshoes!
Beautiful racersEdit
Part 6: Look how beautiful your colts have grown! But remember, they need careful attendance!
Feed grown up Horses 10 times on your island
Find 24 Goat Milk on your island
Great! Who could have thought that one day you'll become a horse breeder!
Beautiful racersEdit
Part 7: If there were horse races on the island your horses would have won!
Search out the Ice Island 3 times
Find 12 portions of Gaspacho (Gazpacho) soup on your Island (can be found while harvesting a Tomato-bed)
Exchange the Horse Collection for a reward
Great! You've grown wonderful horses!
---