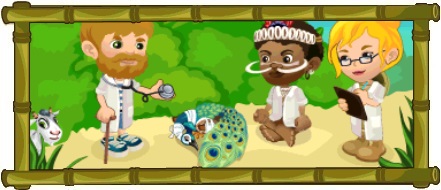 Someone in the Tikki tribe is very ill, and the elders have traveled to Volcano Sibbo for a week. You'll do something to help, won't you?
--------------------------------------------------------------Time Limit: 5 days------------------------------------------------------------
Differential DiagnosisEdit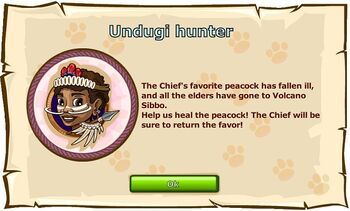 Part 1: Yet another misfortune has befallen poor Undugi. Perhaps you can help him somehow?
Speak with Undugi
Speak with Doctor Ross
Inspect the Peacock
We need a BandageEdit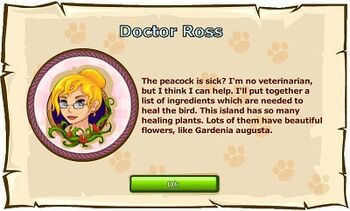 Part 2: To heal the Chief's favorite peacock, you'll need a way to make a bandage. The island doesn't have bandages lying around, but it must have at least something that'll do the trick.
Twelve BladesEdit
Part 3: Many therapeutic plants grow on the island, but none are more effective than leaves from the Tree.
Find 12 Rose"(Grass-blades) Petals from the (Tree) Flowers Collection
Gather 38 white Petals
Find 12 servings of boiled Potatoes
Old recipesEdit
Part 4: Just a little bit more left. Hurry! There's not time!
Investigate the Temple on your Island 65 times.
Find 12 portions of Goat's milk.
Find 9 Cabbage leaves.
A Team GameEdit
Part 5: The medicine is ready! But how can we explain to the Peacock that he needs to take it? We need a team here.
Begin constructing a medical team
Collect the maximum Jack's Bonus 10 times
Feed the Monkeys 45 times
A Peacock's DietEdit
Part 6: Looks like the medicine is working. But the Peacock will recover more quickly if you give some thought to its diet.
Part 7: What? New symptoms? That can't be! This patient needs rest!
Drive the Tiger away 7 times
Treat the Peacock 42 times
Find 15 Fans from the Ostrich Collection
Part 8: The Peacock is almost back to normal, but the medicine is making it thirsty. It shouldn't be hard to find some clean water!
Have 32 Fresh Water
Fish on your Island 75 times
Find 17 glasses of Tomatoe Juice on your Island