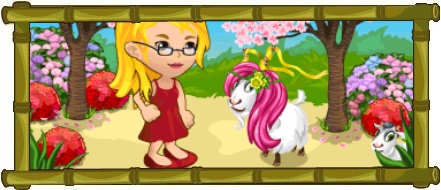 'Even on an uninhabited island girls want to be the most beautiful. Why doesn't Dr. Ross take part in the beauty contest?
-------------------------------------------------------------Time Limit: 11 days----------------------------------------------------------------
Contest traditionsEdit
Part 1: First of all you have to learn as much as you can about the Ticky traditions and about the contets itself.
Help friends 100 times.
Get maximum Jack's bonus 9 (times).
Get a reward from the Bungalow.
Sometimes the Ticky's customs may seem strange, but beauty contest is beauty contest, even on the islands!
Performance dressEdit
Part 2: Dr. Ross needs a corresponding dress for the performance.
Find 5 Grapes (Vine) leaves in your Island. (can be found while harvesting Grapes. Harvest time: 1 hour)
Cut 3 trees on your Island.
Find 7 Bells from the Cow Collection.
Perfect! In this dress Emmy will be gorgeous!
Small jewelryEdit
Part 3: Dr. Ross ought to be in her full splendor. You've got only to find some jewelry.
Great! Dr. Ross is sure to get first prize!
A small sparkEdit
Part 4: Why don't you add a small spark to Emmy's performance?
Have 15 of Confetti. (Can either be bought with Totems or asked from friends)
Have 6 Hand-made (Homemade) Lanterns (Streetlamps). (Can be made in the (Improved) Workshop. Needed: 2 Lamp oil and 3 Wooden blocks  ( Can also  be made in the (Improved) Workshop. Needed: 2 , 2 )
Have 18 of Fire. (Can be made in the Tent. Needed: 10 , 1 Matches)
Great!
ButterfliesEdit
Part 5: At the performance, each participant has to tell about herself. Why not add some effects to the tale?
Find 1 Cabbage (Garden White) Butterfly (Can be found while harvesting Cabbage. Harvest time: 10 hours)
Find 16 Ancient Coins from the Treasure Collection on your Island.
Find 7 Grass-blades with dew on Tree Island. (can be found while harvesting the Tree of Life or Flowerbeds)
Lovely! Hovering butterflies will certainly make Emmy's performance more beautifull.
A bit of make-upEdit
Part 6: Some finishing strokes and Dr. Ross will win the judges' hearts.
Find 60 Flower Petals on the Tree Island.
Find 12 Sweet Carrots. (Can be found while harvesting Carrots. Harvest time: 2 hours)
Find 15 Sweet Berries from Strawberry Collection on your Island.
Great! Dr. Ross has got a goat as a prize... Sometimes it's hard to understand the Ticky.
---
Next: Miss Archipelgo (Contains 6 parts. Time limit: 6 days.)


Ad blocker interference detected!
Wikia is a free-to-use site that makes money from advertising. We have a modified experience for viewers using ad blockers

Wikia is not accessible if you've made further modifications. Remove the custom ad blocker rule(s) and the page will load as expected.