Secret of a wreckEdit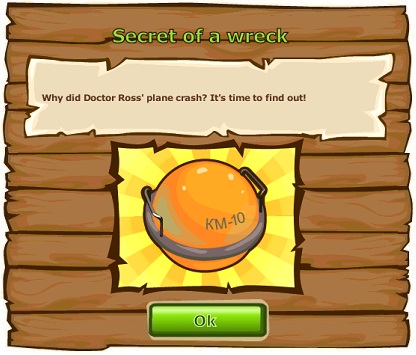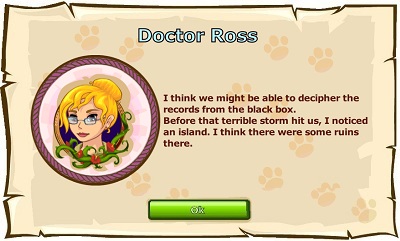 Secret of a wreckEdit
Part 1.1: Why did Doctor Ross' plane crash? It's time to find out!
Deciphering the flight's recordingEdit
Part 1.2: Of course, you won't be able to find specialized equipment on the island, but you are clever at making do with what you have.
Harvest Lemons on your Island 56 times (harvest time: 16 hours)
Find 8 rusty Nailes from the Withered Crops Collection
Create Flight Record
(can be created in the Radio Cabin. Needed: Black Box (found during Floating Debris and 12 Loudspeakers (get them for Totems or ask from friends))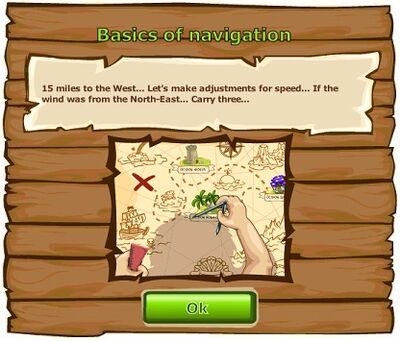 Part 2.1: If our calculations are right, the Island is located at this precise point on the Map.
Precious SuppliesEdit
Part 2.2: All storms come to this island from the new island. Perhaps it's not just a coincidence? You should collect some supplies for the journey.
Have 32 Water Bottles
Harvest Wheat on your Island 48 times
Find 6 Lizard skins on Fort Island
Cruel StormEdit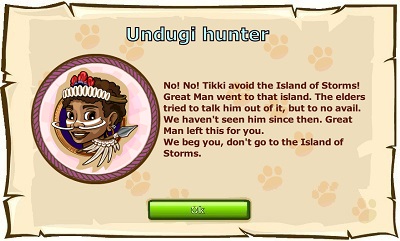 Cruel StormEdit
Part 3.1: Perhaps the Tikki know how you can get to the Island of Storms?
Guiding LightEdit
Reference PointEdit
Who is that mysterious C.O.? Whoever he is, his notes have always been very helpful.
Have the Lighthouse
Cut down 15 Trees
Hint: cutting down a stump at a friends' Island counts as a Tree!!!
Guiding LightEdit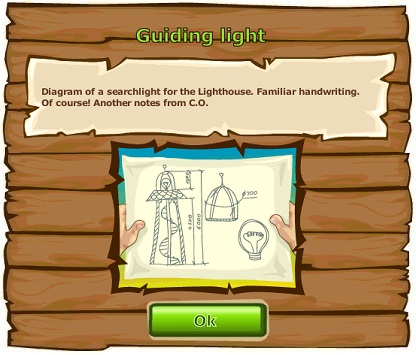 It's impossible to navigate in the fog that surrounds the Island of Storms. A strong searchlight would be really helpful.
Reward: 250
3 Fabric



Light in the darknessEdit
All you have to do is to mount the new searchlight on your Lighthouse and you can travel to the Island of Storms.
Improve the Lighthouse (Needed: 15 Fabric, 15 Paint, 15 Tiles, 15 Resin, 15 Stones, a Powerful Searchlight)
Find 25 Chips from the Potatoes Collection on your Island
Find 18 portions of Goat's cheese
To the Adventures!Edit
Nobody knows what will await you at the Island of Storms. Perhaps you will finally meet the mysterious C.O. who has been leaving you messages.
Get to the Island of Storms
Quickly! Help!Edit
Rabid dogsEdit
Quickly, help the poor man! It's obvious that those dogs are not just playing!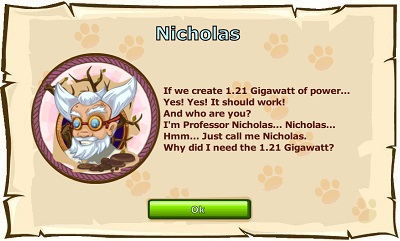 IntroductionEdit
Now that the threat is gone, you could talk with him. I wonder how he ended up in such an unfriendly place?
Remember everythingEdit
Professor Nicholas is obviously not feeling well. You must somehow bring him to his senses. Perhaps he will feel better if he sees some familiar objects?
Voices from the pastEdit
Maybe these traces of an accident will help Nicholas remember what happened here?
Mysterious deviceEdit
It seems that it's missing some pieces. If only Nicholas could remember which ones...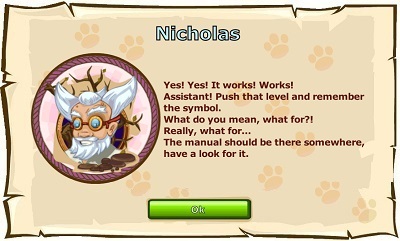 Pure EnergyEdit
We can only hope that it wasn't this transformer that caused the explosion that Nicholas was talking about.
Speak with Nicholas
Turn the Transformer on and obtain Pure Energy
Green EnergyEdit
The operating principle is simple. It seems that you will need to exercise your memory to the full to use this transformer.
Obtain 50 Pure Energy
Find 25 sweet Carrots on your Island
Find 9 Condensers from the Lightning Collection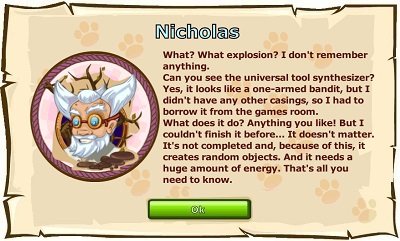 New questionsEdit
It's time to ask Nicholas several questions. It seems that he remembers a lot more than he says.
One-armed banditEdit
Nicholas said that it's very easy. All you have to do is charge it, put in a coin, pull the lever and wait a bit.
Have 100 Pure Energy (get it by playing the Memory game)
Charge the Generator
Play with the One-armed bandit 45 times (every spin costs 5 Pure Energy)
Unanswered questionsEdit
Are you going to be able to get some answers out of Nicholas?
---