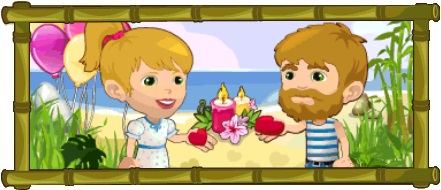 It's spring time coming to the island. Go through all Spring Fest quests to get exclusive rewards not available from the Store.
--------------------------------------------------------------Time Limit: 11 days ------------------------------------------------------------
Spring-ClearingEdit
Part 1: Winter is over, however on a tropical island you need to clean up the winter mess. Roll up your sleeves and get down to work!
Dispose of 6 bundles of Grass on your island
Collect 10 Grass on friends' islands
Let's decorate the islandEdit
Part 2: Use a bit of fantasy and decorations to embellish your island before the Fest
Buy 6 flowery Fences (costs: 2500 per Fence)
Buy a Gate decorated with Flowers (costs: 4000 per Gate)
Spring Sheep!Edit
Part 3: It's the time for the last task. It's rumoured the spring sheep lives somewhere on the island. Try to domesticate it.
Let's collect a Flower BouquetEdit
Part 4: Well, here is your last task: collect a huge bunch of flowers! Use totems and ask your friends to help in the quest.
Collect 9 blue Flowers (costs: 1 per Flower)
Collect 7 pink Flowers (costs: 1 per Flower)
Collect 11 white Flowers (costs: 1 per Flower)
---
Ad blocker interference detected!
Wikia is a free-to-use site that makes money from advertising. We have a modified experience for viewers using ad blockers

Wikia is not accessible if you've made further modifications. Remove the custom ad blocker rule(s) and the page will load as expected.