This Quest starts when you click at the Boat after the start of level 7.
After exploring the Boat, a Mysterious Map appears.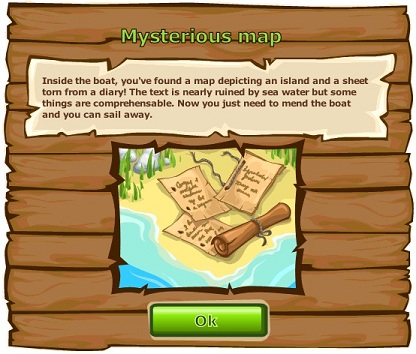 Hope of rescueEdit
Packing for the roadEdit
Collect 15 Water bottles
Collect 3 jars of pickled Tomatoes on your island
First journeyEdit
Tree IsleEdit
White bearEdit
Meeting UndugiEdit
Return to your island
Have a completed Bungalow
Sleeping Tutti-FruttiEdit
Save up 15 sleeping Berries
Collect 8 Lam ribs on your island
 Smart planEdit
Opening the trunkEdit
Hard lianaEdit
Return to your island
Have a completed Bungalow
 Seeds of the Tree of LifeEdit
Collect 36 seeds from the Tree
Find 10 White Seeds on the Tree Isle
 Planting miraculous flowersEdit
Collecting petalsEdit
Find 12 White Flower Petals
Find 12 Blue Flower Petals
The trunk has opened!Edit
Open the Trunk on the Tree Isle and remove its contents
---
next: Abandoned hut
---
Ad blocker interference detected!
Wikia is a free-to-use site that makes money from advertising. We have a modified experience for viewers using ad blockers

Wikia is not accessible if you've made further modifications. Remove the custom ad blocker rule(s) and the page will load as expected.