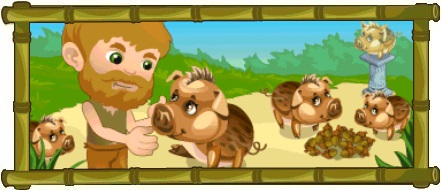 ---
The house under the Oak-treeEdit
Part 1: To raise pigs, one has to have special conditions on the island. First of all you have to build a cozy house for them.
Get the crops of Bananas 50 times on your Island. (harvest time: 7 minutes)
Find 9 portions of boiled Potatoes. (Can be found while harvesting Potatoes. Harves time: 10 min.)
Great! New residents will love the house you've built!
Balanced feedingEdit
Part 2:Wild boars are quite unpretentious in food, but they won't eat anything. You've got to think well about their menu.
Find 12 Strawberry Leaves on your Island. (Can be found while harvesting Strawberries. Harves time: 20 min.)
Use 5 Cocktails. (can be crafted in Steve's Bar and/or found in your Inventory/Special)
Find 5 Carved Watermelons on your Island. (Can be found while harvesting Watermelons. Harves time: 16 hours)
Perfectly balanced feeding - is just what wild piglets need for growing!
Home decorationEdit
Part 3: Very soon everything will be ready for raising wild boars!
Finish building The House under the Oak-tree
(Needed: 18 Bamboo, 18 Bricks, 18 Paint, 18 Wood Boards, 18 Leaves and 18 Glass)
Find 12 Pickled Peppers on your Island
Get the crops of Wheat 30 times on your Island (harvest time: 24 hours)
Great! You've built a beautiful house!
Treat for PigletsEdit
Part 4: You can't buy wild boars in a regular shop. First you have to lure them. To do this you'll need thear favourite treat - acorns!
Feed grown up Pigs 50 times on your Island
Find 20 Acorns (can be found while feeding a Pig)
Have 15 of Milk Formula ((found in the Store/Special) either ask from friends or buy it with Totems)
Great! Wild piglets are sure to come enjoy the acorns you've collected.
New residentsEdit
Part 5: Everything is ready! It's time to settle wild, but very cute piglets on your Island!
Buy (need to be crafted) 3 Wild Boars in the House under the Oak-tree
(needed: 9850 and 10 Acorns per Wild Boar)
Find 12 Tops from the Carrot Collection on your Island
Great! With your care the piglets must grow by leaps and bounds!
Truffle huntEdit
Part 6: These wonderful animals may be very useful. Do you know that they can find truffles?
Feed grown up Wild Boars 9 times on your Island (needed: 4 Milk Formula per Boar)
Find 9 rotten Aubergines on your Island (part of the Eggplant Collection)
Get a reward from the House under the Oak-tree 2 times
Great! The Ticky Elders even find gold with the help of wild boars!
Golden BoarEdit
Part 7: The Ticky hunters say they see sometimes a golden boar in the jungle. Perhaps you'll manage to tame it?
Find 12 Banana skins from tne Banana Collection on your Island
Have 15 of Clay
Find a Plush Pig
Great! You've tamed the golden boar! Just one so far, but it's just the beginning!
---